Curator's Speech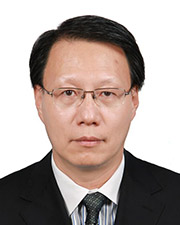 Dear friends
Welcome to China Science and Technology Museum to experience sciences and explore the secrets of sciences!
China Science and Technology Museum was born at the side of the Anhua Bridge, and grew up in the Olympic Green. As a national comprehensive infrastructure for science popularization, China Science and Technology Museum has undergone 25 years of exploring and developing and formed a unique charm, holding the theory of "experiencing science, inspiring innovation, serving the public and promoting harmony".
Here, we feel the beauty of the principles of science, and wonder at the dramatic changes that have taken place in technology applications. We explore the secrets of exquisite machines, and experience the diversity of livings. We hover over the development of the history of philosophy, and dream about the future of scientific innovation……
Here, you can enjoy not only a feast for your eyes, but also the pleasure in interactions and participations. You can appreciate not only the truth of science, but also the romance of the incorporation of science and art.
China Science and Technology Museum shoulders the responsibility of developing national science museums. We have been created, developed and incorporated, such brands as China Mobile Science and Technology Museum, Science Wagon, and China Digital Science and Technology Museum, which have built a strong foundation for the construction of modern science and technology museum system with Chinese characteristics.
Browsing broadly but digesting slowly, accumulating for a long time but showing just a little, China Science and Technology Museum will try its best to become the world-leading scientific exhibition center, the developing, integrating and sharing center for high-quality scientific resources, to make glorious contribution to the development of economy and society, and the enhancement of science popularization.
Friends, China Science and Technology Museum wish to accompany you throughout the journey of sciences.
Yin Hao